Description
ARAMAX Power Kit
ARAMAX Power Kit :
Firs of all this is the new ARAMAX Power Kit.
It consists of a massive 5000mAh built-in battery and also a 5ml sub ohm tank.
As a resolt it will bring you long-lasting battery life.
Also a fantastic cloud and flavor .
Because of the power of 5000mah it will constant 55W output and provide a stable performance too.
Most important is that it has a child lock design,
Therefore you will enjoy a safe vaping freely.
Anoother factor is that the tank also adopts top refill and top adjustable airflow system.
Finally you will definitely fall in love with it in the amazing Black color.
The Aramax Power 5000mAh Starter Kit is a beast, with a huge 28mm diameter.
Another factor is that both tank and mod and a whopping 5000mAh internal battery.
As a result it will keep the average vaper going throughout the day.
The Aramax Power has a fixed wattage of 55W.
Therefore it'll keep going at full speed until the battery drops.
The speed can be charged with the supplied USB cable.
Furthermore the device includs a 0.14Ω coil which is fitted into the tank via the top.
It's got a also a top fill and a top airflow, aimed to reduce leaking, with a wide airflow to promote flavor and vapor production.
With ARAMAX POWER you don't need to worry
about not having enough battery from 3000mAh
or dealing with large multi-battery mods. One fully
charged 5000mAh battery is enough for more
than 25ml of liquid.
ARAMAX Power Kit specifics:
Size: 150 x 28mm
Battery: Built-in
Power: 5000mah
Charging: Micro USB Port
Voltage: Constant 55W voltage output
Tank diameter: 28mm
Coil: 0.14ohm coil
Capacity: 5ml or 2ml
Thread: 510 threaded
Color: Black

Massive 5000mAh Battery with USB Charging
Child lock design for safe vaping
Several air tubes for optimal flavor
Constant 55W power output


Packing Items:
1 x ARAMAX Power Kit (0.14ohm coil pre-installed)
And also an Extra 0.14ohm coil
Plus a User manual
Also a 510 connector plus the key
A Micro USB cable and also some Spare O-rings

It doesn't have VW or VT function.
510 thread
It doesn't come with e-Juice. You shall buy it separately.
We provide compatible battery/tank and coils.
Brand
Aramax
Aramax Vape Pen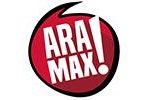 Related Products
Khree UFO 2 Pod System Kit 600mAh

Khree UFO 2 Pod System Kit is inspired of UFO. With its unique disc-shaped and gorgeous color design, the UFO 2 Pod Kit must be impressed to you. It equips with two 2ml refillable pods. You can enjoy 2 flavors/2 nicotine strengths in 1 kit.

€

35.00