Description
Brand
Additional information
Description
Steam Crave Aromamizer Supreme V2
5ml RDTA Tank Rebuildable Dripper
Crave Aromamizer Supreme RDTA specifics :
Brand Name: Steam Crave
Model Number: Aromamizer Titan RDTA
Coils Type: Replaceable
Compatible Model: 510 Thread
Material: Metal
Size: 41mm x 71mm (without 510 pin)
Capacity: 5ml
Tank Type: RDTA (28ml/18ml)/ RDA
Color: Silver
Details :
First of all this is new from Steam Crave the  Aromamizer Supreme V2 RDTA.
Because of the new TPD law this RTDA is top filling.
Furthermore it comes with a capacity of 5ml and the coils are replaceble.
Because is 510 threaded the atomizes is suitable for any mod that is 510 threaded as well.
Another factor is that it can have a single or a dual coil.
If you take the glass and chimney off, it will be a RDA.
As a result the Steam Crave Supreme V2, can be used in two ways, RTA and also RDA.
Finally the Aromamizer Supreme V2 RDTA comes in three colors, black silver and also grey.
Stainless steel construction
5ml juice capacity
Enhanced airflow and also juice flow design
Velocity style post build deck for coils of over 6mm internal diameter
Top filling design
510 threading connection
25mm overall diameter
Packing Items :
1 x Aromamizer Supreme V2
Spare 5ml Glass and also Spare O-ring Pack (silicone and rubber both included)
Spare Grub Screws, single Coil Plugs and also an Allen Key
Also a Manual and a Steam Crave Sticker
Dimensions
Depth :  25 mm
Height :  57 mm
Width : 25 mm
Liquid Volume:  5 ml
Weight: 62 g





Note:
First of all RDTA stands for Rebuild-able Dripping Tank Atomizer.
Which is a result of the combination of RDA and RTA.
Furthermore the Crave Aromamizer Supreme RDTA atomizer can be both.
By simply taking the glass and chimney off, it will be a RDA.
As a result you have a tank to hold e juice.
And you also have a deck to build on.
Finally the difference is the function of "Auto Dripping".
Brand
Steam Crave
Steam Crave is the US and EU registered brand name for an outstanding range of vaporizing products designed and manufactured in China. We have evolved from a manufacturer of e-cigarette products, formally known as Beautiful Industry Group Co.Ltd., which had four years' experience in personal vaporizer design.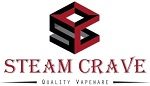 Related Products
IJOY Captain Mini Subohm Tank 2ml/3.2ml

The newest IJOY Captain Mini inherits the unique Groove chassis, thread-less coil heads and sliding top filling design from Captain family. As a special edition, it comes with 3.2ml/ 2ml juice capacity and 22.5mm diameter.

€

25.00