Description
Brand
Reviews (1)
Description
SMOK TFV12 Prince-T10
Replacement Coil 0.12ohm (3PCS)
SMOK TFV12 Prince T10 specifics
Brand Name: SMOK
Compatible Model: TFV12 PRINCE Tank.
Model Number: SMOK TFV12 PRINCE Coil
Type: DS NC
Coil: T10
V12 Prince-T10: 0.12ohm Decuple Coils
Net Weight: 40g
Package: 3pcs/pack
SMOK TFV12 Prince T10 Details:
First of all this is an original smok Prince coil.
The atomizer head is compatible for the Smok Prince tank.
Furthermore,there are four different type of coils compatible.
The SMOK TFV12 Prince T10 is only one of them.
The other three are the Q4 the X6 and also the M4.
Another factor is that it has a resistance of 0.12ohm.
As a result, the voltage can go as much as 120w.
Even though,  is highly recommended to keep the coil between 80w and 110w.
Furthermore, the materials are stainless stain and organic cotton.
Finally it comes in a box which contains three coils.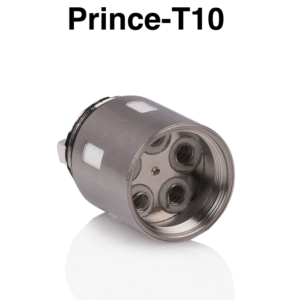 SMOK TFV12 Prince T10 coil is compatible for any SMOK TFV12 Prince tank.
Furthermore the SMOK TFV12 Prince atomizer can be also found on the Smok G-Priv Luxe Edition.
Packing items:
1 x SMOK TFV12 Prince-T10 Replacement Coil 0.12ohm (3PCS)
First of all coil is also known as an atomizer head.
In order for the battery to make contact with the liquid your going to need an atomizer head.
As a result you can inhale the vapor.
Because there are many different types of tanks there are also a lot of different coils.
Therefore, you have to be careful and sure that your putting the correct coil into your atomizer.
Finally if your vaping a lot your coil is supposed to last about 14 days .
If the opposite suits you better, and you don't vape that much,
you have as a result the coil to last for three weeks or so.
Brand